It was during the last stop of The Trip — the 18th of 18 provinces. I dropped my phone. It fell apart. And someone said it: "Dan, you and Electronics don't really mix, do you?"
It never used to be this way. Electronics and I used to get along quite well, actually. We hung out together. We talked on the phone. Electronics was on my IM buddy list.
But then I decided to go on this trip — and something happened. We drifted apart. At first, I'd hear from Electronics every now and then. Maybe an email or an SMS. But then all I got were group emails. And then nothing. By the sixth week of the trip, Electronics had totally turned on me.
My wireless internet stopped working in Beijing. My mobile phone left me in Changchun. My camera ran out on me in Yunnan. By Gansu, even my loyal iBook — who flew to Lanzhou for a 10-day rendez-vous — wouldn't look at me. (It still won't … and I'm typing this at a Shanghai internet bar … and the guy next to me just spit on the hardwood floor.)
So, here they are! Reviews of the gadgets I took on The Trip!
What they say: "Smaller than ever (just 0.62 inches thick), the iPod fits comfortably in the palm of your hand and slips easily into your pocket … and your life."
What I said before the trip: "Perhaps the best gift to humankind since freshly-squeezed orange juice. And I will be using mine for much more than listening to the latest Fiery Furnaces album. See below."
What I say now:
I love my iPod. I really do. I love the way it looks. I love the way it feels. I love the way I feel when other people look at it. I love the 40 gigs of space for music and photos. I love having thousands of songs at my disposal. (
But why oh why did I put a Luther Vandross album on there? It was a one-time kind-of joke that haunted me every time I put the machine on shuffle … for four freakin' months.
)

So, the iPod was great for music. Really, it did a great job blocking out noise and obnoxious passengers on long train rides. And, yes, with the help of the card-reader add-on (below), I was able to store thousands of photos along with the songs. But the iPod isn't really compatible with China — or at least mine wasn't. Getting a Mac-formatted iPod to work on an internet bar PC — most of which operate on Windows 98 — or any PC for that matter, is either impossible or really, really difficult. I didn't have time to screw with it, so I found ways to work around it.
Basically, the iPod was great to use as a photo storage device for longterm purposes. But once I loaded photos onto the iPod, they were lost there — inaccessible, unviewable — until I could find an Apple computer … and, in China, that pretty much never happens. So, if I wanted to keep the Photo Gallery as current as possible during the trip, I had to come up with ways, once I had filled up my 384 megs of Compact Flash card space, to temporarily store photos before I could find a way to get them online, and before I put them in their final resting place — the iPod.
I would use the computers of friends or new aquantances or head to the local Kodak shop — assuming I wasn't in the middle of nowhere — and burn a CD. Sometimes, in more remote areas, I had to choose my photo subjects carefully, because CF card space was at a premium. Or, I had to decide to dump the photos on the iPod, not knowing the next time I'd be able to access them again. Eventually, I bought a USB CF card reader that helped a lot — because the USB connections at internet bars during the second half of the trip actually worked some of the time.
My other problem with the iPod is price. I paid about $500 for mine, and that was before I bought all the accessories. If you want to do voice recording, store photos and extend your iPod's battery life, you're looking at around another $250. A friend of mine has the iRiver H340. The price of that device is similar to an iPod — but all the add-ons are included. Actually, it does even more than the iPod. It plays movies and allows you to view photos on its color screen (the new iPod Photo now allows you to do this). Why can't Apple make the iPod an all-in-one device? Are they that indebted to the manufacturers of their iPod accessories?
Watever. One thing is certain: The iPod looks really, really cool. And that's all that really matters.
OK. My final gripe about the iPod — the games. After the wireless internet on my Pocket PC died (see below), all I had to do after mandatory lights-out on trains — which in most Chinese sleeper cars comes at around 10 p.m. — was play games on my iPod (my Pocket PC, which has better games, spent most of the trip back in Shanghai getting "fixed"). Solitaire on an iPod is clunky and, without a color screen, confusing. Brick is boring. And Parachute, a shooting game, is endless — kind of like this review.
Media Reader for iPod from Belkin
What they say: "The innovative Belkin Media Reader for iPod lets you store more than tunes. It gives you a great way to back up digital images to your iPod, and take them with you on the road. … It's like having unlimited storage space for all your photos!"
What I said before the trip: "I tend to take a lot of photos. Too many, some might say. So having something like this was a necessity. The 380MB or so of CF card space I have wouldn't have lasted very long. I tried the media reader once, and it was rather fast. Let's hope it stays that way."
What I say now:
This device got the job done … eventually. It wasn't always easy. The iPod had no problems recognizing the card reader when attached to it, but often it said the reader was empty — when, in fact, it wasn't. Had to insert and reinsert the card several times on a regular basis. Contrary to what I said initially, the card reader was often slow. A full CF card could take up to 15 minutes to completely load onto the iPod. And the card reader
always
sapped tons of life from the iPod battery. Sometimes there was barely enough juice in a
fully charged
iPod to handle the transfer from one 256 mb card. So, often, I would have to load photos from my 256 mb card onto the iPod and then recharge the iPod again before loading my 128 mb card — or else the iPod would shut off in mid-transfer. Kind of frustrating.

And, if a partial upload does occur, your only option is to follow with another complete upload, thus ending up with several duplicate photos on the iPod. There is no way to specify a slection of photos you would like to transfer from the CF card to the iPod — it's all or nothing. There is no way to see which photos made it onto to the iPod, anyway. All you are told is the total number of photos, not the individual filenames of the photos. But these are likely iPod issues, not card reader issues.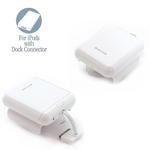 Backup Battery Pack for iPod from Belkin
What they say: "The Belkin Backup Battery Pack keeps the music playing by letting you power your iPod device with replaceable batteries-even when your internal battery is drained. It's a great solution for long plane flights, or hikes, or for anytime you don't have access to an AC outlet."
What I said before the trip: "Since I have like 43 things to recharge every night — and access to electricity might be sketchy in many places along my route — I thought this seemed like a good buy. I tested it on my flight from the U.S. to China in May and it did exactly what it was supposed to. It added several hours of life to my iPod. Whether it works with China's often shitty-ass batteries remains to be seen. (Have you noticed that many of these iPod add-ons are bigger than the iPod itself?)"
What I say now:
Nothing really negative to say about this iPod accessory. With it, I never had to worry about being iPod-less over the course of the entire trip. It is a little bigger than I think it needs to be, and — this was my only real gripe — it uses the same input as the card reader. I could never use both accessories simultaneously. Being able to do that would have negated the card reader's ridiculous battery drain.
iTalk iPod Voice Recorder from Griffin Technology
What they say: "If you thought your iPod was just an MP3 player, boy are you in for a surprise. Plug the Griffin iTalk into the top of your iPod and suddenly you have a world-class voice recorder with literally thousands of hours of recording time."
What I said before the trip: "Should be great for interviews and mental note taking. If only it translated Chinese to English … and then transcribed it all into a Word file."
What I say now:
Actually, I didn't end up using this too much. I hate transcribing interviews, so I took extensive notes instead. Besides, if I did record anything with the iTalk on the trip, I couldn't listen to it until I found an Apple computer anyway. As far as I could tell, voice files need to be handled by iTunes on a computer before the iPod can play them. Kind of silly, if you ask me. I ended up using the iTalk primarily as a mini speaker for the iPod. Sound quality wasn't great, but better than I expected it to be.
What they say: "A broad range of features,
multimedia, and Bluetooth wireless technology make the sleek iPAQ h2215 Pocket PC an essential tool for communicating and managing information anywhere."
What I said before the trip: "This was a tough one for me. I'm a Mac man. I have never purchased a PC product in my life. But this is a PC (not 'politically correct') country, so for reasons of convenience and connectivity, I bought one. I'm not bringing my iBook on the trip, and this seemed to be the most affordable way to get words and images on the website as frequently as possible. And don't worry, I will go back to using Macs as soon as the trip is over."
What I say now:
A waste of $300 — but not because of anything the iPAQ did or didn't do. Basically, this device was rendered useless by the colossal failure of the wireless internet device (
see below
) I bought to go along with it. During the six or so weeks of the 17-week trip that the internet did work, the iPAQ mostly did what I needed it to do. I typed out stories on it and then sent them to the website. I checked email. I answered email (sometimes). I never figured out how to use any instant messaging software on it — the Pocket PC version of MSN Messenger didn't seem to like the fact that I was in China. I also never found a good way to resize photos in bulk and send them to my web server. The iPAQ's available memory — 64 mb — seemed curiously low to me. I mean, my iPod has 40
gb
.

Anyway, the Pocket PC spent most of the trip in Shanghai, awaiting the repair of the wireless device. And after the Inner Mongolia leg of the trip, the time I spent with the iPAQ was mostly spent playing solitaire.
I got to be pretty f**king awesome.
PM828C Compact Flash GPRS Mobile Internet Card from Panda
What they say: Not really sure. It was all in Chinese.
What I said before the trip: "All I know is that when I plug this into my Pocket PC, I can get on the internet anywhere I can get mobile phone reception in China. And that's exactly what I need it to do. It ain't lightning fast, but it works … so far."
What I say now:
The "F" stands for the word this device made me say several times throughout the trip:
Fun!
I absolutely love this device! And the entire Panda corporation! And the fine people who sold it to me!
Fun! Fun! Fun!

With limited Chinese language skills, I traveled solo through China for more than four months — and this little device ended up being the most frustrating part of the trip … easily. Dealing with the people who sold me the GPRS card — for RMB 2,500, including a year of service — sucked. Dealing with China Mobile sucked. In China, the customer is always wrong. Once they have your money, you're screwed. And forget it if you happen to lose the receipt with the all-important red stamp — even if you entered the office as the friend of a friend of one of office workers, even if the they damn well know you are the only white guy who has ever bought direct from the manufacturer. No one cares about repeat business. No one cares about word of mouth. China's is a very shortsighted retail business model.
In theory, my plan was great. With the iPAQ and the GPRS wireless internet card, I could write stories and update the website from basically anywhere in the country. But the GPRS card (and the SIM card) crapped out in August, just before Beijing, less than six weeks into the trip. They said it had to be my fault, of course. They said I must have used the GPRS card while the Pocket PC was charging, that I must have taken the GPRS card out while the machine was still on. And I probably did do both of those things — because no one ever told me not to. But really, if those two things — things that any normal person would do — cause the unit irreversable damage, isn't that a problem with the way the device was designed?
So the Pocket PC and the GPRS card got sent to Shanghai. And I did the best I could, writing in internet bars — depressing places — and on other people's computers. I fell behind. The travelblog wasn't as instantaneous as I hoped it would be. But, thanks only to the tireless heroics of five very special people — including my Shanghainese landlord and his son in Atlanta — I eventually got the Pocket PC back … in late October … just in time for the final 24 days of the trip.
And it worked! The damn thing worked!
For six hours.
And then it broke.
Again.
Fun.
Foldable keyboard for iPAQ from HP
What they say: "Improve your productivity with this handy foldable keyboard. When folded it's small and storable, but helps you type in your big ideas."
What I said before the trip: "Typing with a stylus drives me crazy, and having to do so would really hamper my output. This real-size keyboard is a lifesaver, and it folds up to about the same size as the Pocket PC."
What I say now:
Wish I could have used this more. Worked well — and attracted quite a crowd when I would pull it out on a packed Chinese train. The arrow keys went dead from time to time — but that likely has something to do with the fact that I bought it "rebuilt."
What they say: "Truly a small wonder, the eTrex takes the best features of a 12 parallel channel GPS receiver and put them into a six ounce package that is only four inches high and two inches wide."
What I said before the trip: "I bought this after writing a story about geocaching. It's great to take along on hikes or camping trips, but its primary purpose on this trip will be providing the latitude and longitude coordinates so this website's interactive map can track my location."
What I say now:
Simple. Sturdy. Dependable. Over the past four years, this device has never done me wrong. Helped my update the trip's
map
— and helped me check to see if my dizzy spells were caused by elevation … or just by breathing China's air.
What they say: "… a sophisticated collaboration of modern design and state-of-the-art technology that delivers astonishing resolution and brilliant color, and more fun per square inch of camera than you've ever known!"
What I said before the trip: "I've put this camera through a lot — and it shows. But after around 10,000 photos and several dozen drops, it still gets the job done. And it gets the job done rather well. What do you think? Not bad for a camera that fits in my pocket. Wait … do I have any pockets left? Shit."
What I say now:
Ditto. This was a great camera … while it lasted. It finally decided it had had enough during a bumpy van ride from Lugu Lake to Lijiang in Yunnan Province. I left the camera in my coat pocket. And I left my coat on the back seat. Both eventually ended up on the floor. And that was the end of my PowerShot S30 (although I still might get it repaired, if possible).
What they say: "Inside the PowerShot A80's gleaming metal case are all the sophisticated Canon technology and advanced shooting features that put this camera in a class by itself. Exquisitely compact and simple to operate, yet remarkably affordable …"
What I say:
I probably paid about $200 more for this than it would have cost me in the U.S. (or Shanghai, for that matter), but I had little choice. My other camera decided to call it quits in the remote Yunnan tourist town of Lijiang, where foreign tourists who don't know any better let the Maojamens flow freely. No bargains to be had. But this little camera saved my ass, and it does everything my PowerShot S30 did … and more.

With the S30, I was often forced to take more vertical shots than I would like to due to the way the camera focuses. The A80 fixed that issue, by adding focus hot spots throughout the field of view. The S30 only had three hot spots, left to right across a horizontal shot. The A80 has nine hot spots, located everywhere. So now, horizontal landscape shots can now have the sky and the land in focus and colored properly. What a concept.
The A80 also boasts a pull-out LCD monitor that swivels, rotates and turns. So the photographer doesn't necessarily need to be pointed at the same thing the camera is. This is perfect for taking candid shots of people who think you're busy looking at something else. Finally, the A80 uses four AA-batteries, not the Canon-only rechargables the S30 did. So, if you happen to be in a remote area, unable to access electricty, all you need to do is pack some extra batteries or buy some at a store.
A great pocket digital camera. And I haven't dropped it yet!
Related: The Trip: Gadgets Galore
12.04.2004, 11:44 AM · The Trip