I'm not a geek. I promise. I just want this trip project done right.
Anyone can travel cross country. Anyone can write about a cross-country trip.
But I want to write — a lot — during the trip. I want the reader to join me while I spend three, four, maybe five months meandering around one of the world's most misunderstood countries. Another day on the road, another story from the road. And plenty of photos.
Maybe they're out there, but I haven't seen many projects like this on the internet. Not of the frequency and duration I am planning, at least. And definitely not in China. (Although I do believe it will actually be easier to pull something like this off in China than many other countries, even the U.S. In China, internet bars are found in the oddest and most obscure places. And Chinese mobile phone coverage is the most comprehensive I've ever seen.)
Still, I'm bringing with me a wide assortment of gadgets, things I think will make the project better and, in some cases, feasible. I'm listing the main ones below for your perusal. You know, the more I look at this, it just seems like an open letter to criminals: "Rob me!" I doubt, however, the average Chinese criminal spends much time reading weblogs … in English. But, on the off chance that a thief is reading this, I should have you know that one the gadgets listed below is really A BOMB! So, go ahead, try your luck.
In order to carry all of these tools, I actually had to go out and buy a pair of shorts, ones with plenty of pockets.
Hmmm. Maybe I am a geek. I don't know: Check out the list, and you tell me.
What they say: "Smaller than ever (just 0.62 inches thick), the iPod fits comfortably in the palm of your hand and slips easily into your pocket … and your life. At 5.6 ounces, it weighs less than two Compact Discs, and even many cell phones. And yet the iPod gives you a huge 15GB, 20GB or 40GB hard drive — big enough to hold 10,000 songs. Do the math: that's four weeks of music played continuously, 24/7 — or one new song a day for the next 27 years."
What I say: Perhaps the best gift to humankind since freshly-squeezed orange juice. And I will be using mine for much more than listening to the latest Fiery Furnaces album. See below.
Media Reader for iPod from Belkin
What they say: "The innovative Belkin Media Reader for iPod lets you store more than tunes. It gives you a great way to back up digital images to your iPod, and take them with you on the road. Your iPod's abundant storage handles thousands of digital photos and frees up your camera's disk space so you can take more pictures. Simply connect the Belkin Media Reader to your iPod, and insert any of the six supported media types. Using software support that's already built into your iPod (with software version 2.1 or later), transfer the pictures quickly via FireWire technology and you're ready to start shooting again. When you get home, simply connect your iPod to your computer to retrieve the images. It's like having unlimited storage space for all your photos! "
What I say: I tend to take a lot of photos. Too many, some might say. So having something like this was a necessity. The 380MB or so of CF card space I have wouldn't have lasted very long. I tried the media reader once, and it was rather fast. Let's hope it stays that way.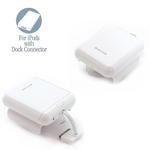 Backup Battery Pack for iPod from Belkin
What they say: "The Belkin Backup Battery Pack keeps the music playing by letting you power your iPod device with replaceable batteries-even when your internal battery is drained. It's a great solution for long plane flights, or hikes, or for anytime you don't have access to an AC outlet. The Battery Pack uses four standard 'AA' alkaline batteries that you can simply replace when the charge is gone. Discreet suction cups secure the unit to the back of your iPod, without marring your iPod's finish. In addition, the Battery Pack incorporates a charge-level indicator, so you can tell ahead of time when your batteries are running low, and never be caught without your tunes again."
What I say: Since I have like 43 things to recharge every night — and access to electricity might be sketchy in many places along my route — I thought this seemed like a good buy. I tested it on my flight from the U.S. to China in May and it did exactly what it was supposed to. It added several hours of life to my iPod. Whether it works with China's often shitty-ass batteries remains to be seen. (Have you noticed that many of these iPod add-ons are bigger than the iPod itself?)
iTalk iPod Voice Recorder from Griffin Technology
What they say: "If you thought your iPod was just an MP3 player, boy are you in for a surprise. Plug the Griffin iTalk into the top of your iPod and suddenly you have a world-class voice recorder with literally thousands of hours of recording time. With iTalk you can record seminars, meetings, classes, notes in your car, songs, whatever you want. iTalk has a built-in microphone designed to record crystal-clear audio, and its Automatic Gain Control assures you have the best possible signal level for recording. You can even connect an external microphone directly to iTalk for more recording options."
What I say: Should be great for interviews and mental note taking. If only it translated Chinese to English … and then transcribed it all into a Word file.
What they say: "A broad range of features, multimedia, and Bluetooth wireless technology make the sleek iPAQ h2215 Pocket PC an essential tool for communicating and managing information anywhere."
What I say: This was a tough one for me. I'm a Mac man. I have never purchased a PC product in my life. But this is a PC (not "politically correct") country, so for reasons of convenience and connectivity, I bought one. I'm not bringing my iBook on the trip, and this seemed to be the most affordable way to get words and images on the website as frequently as possible. And don't worry, I will go back to using Macs as soon as the trip is over.
PM828C Compact Flash GPRS Mobile Internet Card from Panda
What they say: Not really sure. It was all in Chinese.
What I say: All I know is that when I plug this into my Pocket PC, I can get on the internet anywhere I can get mobile phone reception in China. And that's exactly what I need it to do. It ain't lightning fast, but it works … so far.
Foldable keyboard for iPAQ from HP
What they say: "Improve your productivity with this handy foldable keyboard. When folded it's small and storable, but helps you type in your big ideas. The standard layout allows you to effortlessly take notes, email or write reports. It's great for entering a large amount of data quickly. When not in use the keyboard folds up into an ultra-small package for easy portability."
What I say: Typing with a stylus drives me crazy, and having to do so would really hamper my output. This real-size keyboard is a lifesaver, and it folds up to about the same size as the Pocket PC.
What they say: "Truly a small wonder, the eTrex takes the best features of a 12 parallel channel GPS receiver and put them into a six ounce package that is only four inches high and two inches wide. The result is a unit that will literally fit in the palm of your hand. Besides its small size, mariners and outdoorsmen will likely notice the sleek design of the eTrex. All buttons are located on either side of the unit, allowing for simple, one-handed operation that won't obstruct your view of the display. In fact, the eTrex features only five operator buttons for the ultimate in user-friendly design. Thanks to its bright yellow case, the eTrex will be hard to misplace and easy to find in any boat or backpack. The eTrex is completely waterproof so it can take an accidental splash or dunk in the water and still continue to perform."
What I say: I bought this after writing a story about geocaching. It's great to take along on hikes or camping trips, but its primary purpose on this trip will be providing the latitude and longitude coordinates so this website's interactive map can track my location.
What they say: "Introducing the PowerShot S30: a sophisticated collaboration of modern design and state-of-the-art technology that delivers astonishing resolution and brilliant color, and more fun per square inch of camera than you've ever known! With PowerShot S30's 1/1.8-inch 3.2-megapixel CCD, you can create postcard size images so densely detailed, the pixilation is undetectable to the human eye.The primary color filter captures all the luminescence of a complimentary color filter with true, radiant color reproduction, thanks to re-engineered digital signal processing. Just 4.4" long and under 1.5" thin, PowerShot S30 is one of the most compact of all 3 to 4-megapixel cameras with a 3x optical zoom lens , a sliding capsule lens cover and sleek, subtly colored aluminum casing make a definitive design statement."
What I say: I've put this camera through a lot — and it shows. But after around 10,000 photos and several dozen drops, it still gets the job done. And it gets the job done rather well. What do you think? Not bad for a camera that fits in my pocket. Wait … do I have any pockets left? Shit.
07.17.2004, 11:52 AM · The Trip